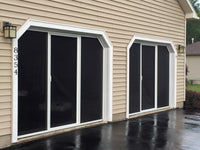 The Most Versatile Garage Screen Door On The Planet
Lifestyle Screens Fits Most Garage Doors and features:
Width: from 6'W to 18'W
Height: 7'H, 8'H, 9'H, and 10'H. Custom heights available.
Frame Color: White, Brownstone, Sandstone
Screen Fabric: Charcoal Fiberglass, Black PVC-coated Polyester, White PVC-coated Polyester.
Passage Door: With it or Without it.
Accessories: Frame Locks, Passage Door Locks, Pet Keeper.
Click Here for All Products
Lifestyle Screens Garage Screen Door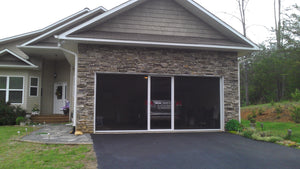 White Frame with Charcoal Fiberglass Screen Fabric
The charcoal fiberglass mesh allows maximum airflow and maximum visibility. Models with the fiberglass mesh are the least expensive models available. The Lifestyle is framed with 2" x 2" architectural grade aluminum with a wet painted shell for a durable and consistent finish. The Lifestyle screen runs on maintenance free tracks, independent but similar to your primary garage door tracks.
16'Wx7'H; Charcoal Mesh; with Passage Door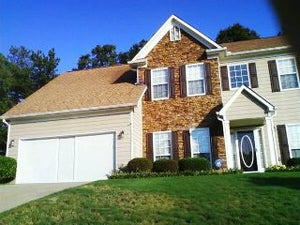 White Frame with White PVC-coated Polyester Screen Fabric
The white PVC-coated polyester fabric offers daytime privacy. This means that at day the sunlight reflects off the white fabric impeding visibility from the outside. The polyester fabric is more sturdy than the fiberglass fabric and it is pet resistant. It reduces airflow and visibility by 35%.
16'Wx7'H; White Mesh; with Passage Door
White Frame with Black PVC-coated Polyester Screen Fabric
The black PVC-coated polyester fabric is pet resistant and sturdier than the fiberglass mesh. It is a 65% solar fabric that offers protection from the sun's harmful UV rays. It also reduces heat penetration by 35%. However, airflow and visibility are also reduced by 35%.
16'Wx7'H; Black mesh; with Passage Door
Lifestyle Screens Featured collection
Here's What Our Customers are Saying...
Having the Lifestyle Screen installed on my garage gave me the option of now using my garage for entertaining without the bugs!

 J.L., Taylor, MI
I use my Lifestyle Screen year around to help keep my home cooler.


S.R., Port St. Lucie, FL
I looked at all of the different products on the market for screening in my garage. Lifestyle Screens was the right choice for me (and my budget!)



 F.Z., Toronto, Ontario